Registering for Sitappa's Hakurei Frontier is an easy process; however, the menu for doing so is mostly in Japanese. This is a step-by-step guide to creating an account and starting your game.
Sitappa Games hosts Hakurei Frontier on their website. There are two versions of the game available to play-- one is the standard game that has outside links and updated news and the other is streamlines to ease loading times.
The standard game is located here.
The lightweight game can be played here.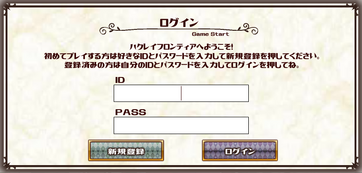 Once the game has loaded on your browser, you will be greeted by this screen. The first text box is for entering a username-- unicode is accepted so it's perfectly fine to have an English username. The second text box is for entering a password-- the maximum amount of characters allowed is ten. After entering your information, click on the green button on the left. This button will register your account, if your account name is not taken already. If it is, you will get an error sound and will be denied until you enter a different name. Otherwise you will immediately be placed into the main screen and will receive some complimentary newbie gifts.
The purple button on the right is the login button. To log in once you have already registered, just enter in the same information you did when you registered, and then click the purple button. An email address is not necessary to register for Hakurei Frontier. If you lose your account details, you may click on the text (☀9/13以降、IDとパスワード分からなくなった場合) that appears on the red banner above the game window. This will open up a new tab in your browser that displays the information in a flash app. However, there is likely no support in case you do forget your account information and the information is somehow lost from your browser, so remember to write down your username and password if you feel you may forget it, as they will not be recoverable.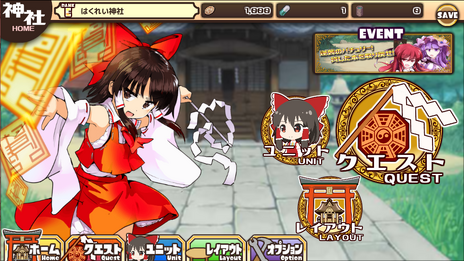 Congratulations! If you have reached this screen, this means that you have registered without a problem! You will start with Reimu as your sole unit, 1,000 coins, and 1 medicine.
Community content is available under
CC-BY-SA
unless otherwise noted.